CJFF 2018 PROGRAM ARKIV
15. FEBRUAR – 25. FEBRUAR 2018
---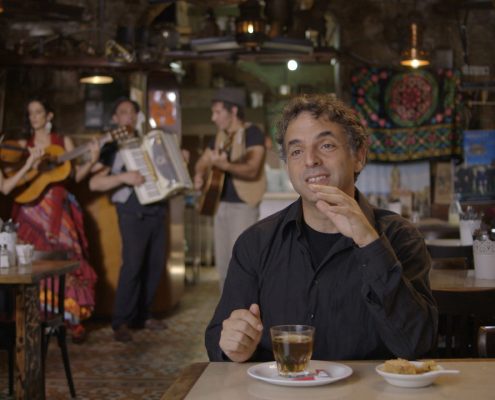 Etgar Keret skriver for at kompensere for det, der er svært i livet - Podcast by Hanne Foighel
TORSDAG 15/02 – CINEMATEKET

16:45
WALL
Efter filmen 'Wall' byder vi på Q&A med instruktøren via skype.
18:00
WOMEN'S BALCONY
Kom til åbningsfest for Copenhagen Jewish Film Festival 2018 fra kl. 18.00 med snack/vin og quick-fix Ladino-koncert med herboende Ana Silvera i Asta Bar (fri entré, ingen pladsreservation).

Efter receptionen går tæppet kl. 19.00 for festivalens officielle åbningsfilm, det underholdende drama 'Women's Balcony', og bagefter inviterer festivalen til debat om forandring. I panelet sidder Lene Mirdal (arkitekt), Karen Lisa Salamon (kulturantropolog) og Kenneth Balfelt (kunstner). Moderator: Festivalleder Anne Boukris.

21:30
MUHI: GENERALLY TEMPORARY
De to journalister Rina Castelnuovo-Hollander og Tamir Elterman har sammen skabt filmen 'Muhi: Generally Temporary' – en personlig fortælling om en lille dreng, der befinder sig i midten af Israel/Palæstina-konflikten. Debat efter visningen.
21:45
1945

To ortodokse jøder vender tilbage til en sovjetisk besat ungarsk landsby ved afslutningen på 2. verdenskrig. Filmen '1945' indledes med velkomst ved Ungarns ambassadør. Ambassaden byder på et glas i Asta Bar efter visningen.

---

FREDAG 16/02 – CINEMATEKET

15:15
Kl. 15.15 viser vi på lærredet i Asta Bar 'Jill Soloway on The Female Gaze' – en forrygende Masterclass fra Toronto International Film Festival. Copenhagen Jewish Film Festival 2018 byder på en kop velbrygget kaffe.
16:30
JUDITH BUTLER

Kl. 16.30 vil Robin Schott (DIIS) og forkvinde for Women in Film & Television (WIFT Danmark) Anne Boukris, der også er leder af CJFF, introducere dagens hovedfilm, 'Judith Butler – philosophe en tout genre' (vises med engelske undertekster).

Efter filmen – men fortsat inde i salen – er der debat om feminisme og filmnarrativer – om feminisme, krop, transformation, jødisk kultur og religion i kontekst af nye fortællinger i film og tv.

18:45
THE HOLYCOASTER (S)HIT CIRCUS

Kan man lave satire over 2. verdenskrig og Hitler?

'The Holycoaster (S)hit Circus' er en fantastisk og politisk ukorrekt cirkus-agtig mockumentary, der henleder tankerne på både 'Borat' og den tysk-israelske ungdomskomedie 'Lemon Popsicle'.

Efter filmen inviterer CJFF til et publikums-eksperiment om traumer og bearbejdning af disse. Et vaskeægte live-forsøg på at sætte tanker og strategier i gang i en fælles undersøgelse af, hvad filmens temaer kan bruges til. Kan vi mennesker selv udrede vores indre dæmoner og bringe forandring?

Vi anbefaler, at man tager godt med hård hud på! Debattens varighed: 45 min.

19:00
WATCHING THE MOON AT NIGHT

'Watching the Moon at Night' er en barsk dokumentar om antisemitisme i seks forskellige lande. De to svenske Instruktører byder velkommen og introducerer filmens tilblivelse efterfølgende er der samtale med publikum med lektor i sikkerhed og udenrigspolitik Birthe Hansen, Inst. for Statskundskab.
Lyt til Birthe Hansen her:
https://www.everydayproject.dk/birthe-hansen-tor-vi-tale-om-terror

21:15
THE LONGINGS OF MAYA GORDON

Nyd et tragikomisk dokumentarisk portræt af en kompromisløs polsk kunstner, der afviger fra det gængse mønster i sin stræben efter selvrealisering, kunstnerisk autenticitet, kærlighed og et sted at høre til. Vises med kort forfilm. QA med instruktør Etty Wieseltier.

21:30
MENASHE

Uortodoks amerikansk indiekomedie fra en ultra-ortodokst jødisk enklave midt i Brooklyn!

Den nyslåede enkemand Menashe må kæmpe for retten til sin søn, mande sig op og ud på frierfødder – selv om helst vil ligge på sofaen.

---

SØNDAG 18/02 – CINEMATEKET

16:30
 THE FIELD

Dialog- og ungdomsforeningen Salaam Shalom står for debat efter 'The Field', der følger forsoningsinitiativer i Israel gennem mere end to år og dokumenterer store forandringer på begge sider af konflikten. Debatpanelet består af Özlem Cekic, David Trads, Tarek Ziad Hussein og Benjamin Krasnik. Varighed 45 min.

---

TIRSDAG 20/02 – Grand Teatret

16:45
 1945

Q&A with 1945 screenwriter Gábor T. Szántó.

19:00
FOXTROT

'An intricate, dazzling cinematic dance. It's profound and moving and wild and crazy at the same time.' Los Angeles Times

21:00
MONSIEUR MAYONNAISE

Samtale med billedkunstner Camilla Blachmann om hendes kunstneriske tilgange til krop og sjæl.

-> 21. FEB
SKIBET/HATIKVAH I 1969 kom den polske instruktør Marian Marzynski til Danmark som politisk flygtning. Efter sin ankomst til Danmark lavede han en film om sin immigration, 'Brev fra St. Lawrence til Polen'. Filmen blev optaget på skibet St. Lawrence, der lå til kaj i Københavns havn og husede omkring 500 polske jøder på flugt. Her kommer den opdaterede version af historien!

Mød instruktør Marian Marzynski til Q&A
og et panel af vidner:

Bent Lexner
Anette Vainer
Mala Moszkowicz
Simon Fish
fortælle om deres erindringer fra tiden.
Varighed på debatten: 30 min.

---

SØNDAG 25/02 – CINEMATEKET

15:45
OPERATION WEDDING

Meet the director of the documentary Operation Wedding, Anat Zalmanson-Kuznetsov. Operation Wedding has been picked out as the documentary of the month. This gives the audience the opportunity to see the film during the month of February. The director will be present during the screening on Sunday the 25th.

18:30
KLEZMER AFTEN + ELSKER HVERANDRE

Denne særlige klezmer-aften markerer ikke blot afslutningen på Copenhagen Jewish Film Festival 2018, men også Ronen Thalmays 20-års-jubilæum som stumfilmspianist i Cinemateket.

Til lejligheden er hele hans klezmer-band Mazel blevet inviteret til at lægge lyd til en stumfilm efter eget valg. Det er blevet Carl Th. Dreyers rørende 'Elsker hverandre' ('Die Gezeichneten') fra 1922. Efter visningen inviteres alle til reception i Cinematekets Asta Bar.